Caregivers
Compassionate Care for Peace of Mind
Caring for a loved one is a tremendous commitment. Whether it's a few visits a week or 24x7 in-home care, most family caregivers reach a point where they need additional assistance. Maybe your family member's needs have increased, or maybe something else has changed.
Whatever your unique situation, Caring Hearts® provides quality Caregivers for professional, attentive in-home care. We're known for our philosophy of Compassionate Care – providing your loved one with the same level of care and attention we'd expect for ourselves and our own families.
Because we know it can be difficult to open your home to a stranger, we take the time to get to know you and understand your family's unique needs through our FREE In-Home Consultation program. We can answer your questions face-to-face and match you with the ideal Caregiver for your family, your loved one, and your schedule.
Not sure what to ask? We have a list of questions to get you started.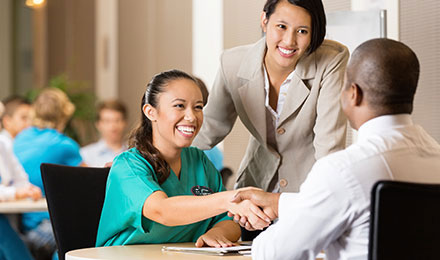 Insured and Screened for Quality In-Home Care
Your family's safety and well-being is our highest priority. To ensure we only hire the best, our Caregivers undergo a rigorous screening process and background check. They're thoroughly trained, insured, and ready to provide compassionate, engaged care that creates the best possible quality of life for your loved one, and peace of mind for you.
Training and Continuing Education for Caregivers
Before going out in the field, Caring Hearts Caregivers undergo extensive professional training to prepare them to provide the best quality in-home care for elderly and disabled family members, new moms, and other in-home care situations.
An intense core curriculum with supplemental electives combines collaborative classroom training, online courses, and webinars to ensure our caregivers are well-prepared to handle any situation.
An Equal Opportunity Employer
Every Caring Hearts agency is an Equal Opportunity Employer. All qualified applicants will receive consideration for employment without regard to race, color, religion, sexual orientation, national origin, age, disability, veteran status or any other status protected by federal, state, or local laws.